Doctor of Nursing Practice, DNP (Hybrid)
Now that you have your Master's degree in Nursing, advance your career with a Doctor of Nursing Practice (DNP) in Clinical Leadership
Gain strong knowledge of nursing scholarship, clinical practice, health promotion, disease treatment, and the skills necessary to work in a changing and evolving health care environment in USJ's hybrid DNP program.
With your DNP, gain the foundation to work in leadership roles in patient care, with policymakers in public health departments, in research facilities, pharmaceutical companies, at the management level in doctor's offices, or private practice.
DNP PROGRAM OUTCOMES
This degree will provide you with a broad perspective that includes holistic health care for your patients including understanding how social and economic factors influence health outcomes.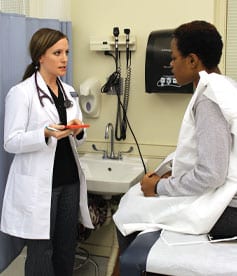 Apply scientific knowledge, evaluation methods and quality improvement strategies to advance evidence based clinical practice and improve health care systems and outcomes. (Essential 1, 2, 3,8)
Lead organizations and systems as a practice scholar through the application of quality improvement strategies, systems thinking, and information technology. (Essential 2,3, 4 8)
Advance patient and population health outcomes through scholarship, advocacy, leadership, and communication/collaboration with multidisciplinary teams.(Essential 5, 6, 7, 8)
Influence public policy to minimize health disparities and promote access to quality care.(Essential 5, 7, 8)
DNPs re employed in a range of roles from hospital CEOs or directors, public health leaders, to teachers or professors.
If you strive to work hard in pursuit of educational excellence, make improvements in health care systems, and advance nursing practice through leadership, collaboration, and advocacy, then you are ready for the DNP program at the University of Saint Joseph. Discover your passion, as I did, at USJ.
— Valencia Chicoine, M'12, DNP'16
Reading Time: 1 minute On May 7, 2019, Yvonne Joy, DNP, APRN, director of the DNP Program and assistant professor of Nursing, joined Mornings with Ray Dunaway for National Nurses Week. During this radio interview, Joy discussed the University of Saint Joseph's (USJ) online Doctorate of Nursing (DNP) program, career opportunities in Connecticut, and latest trends in nursing. In