Request a Transcript
Official transcripts are printed on security paper with a preprinted University seal and Registrar signature as well as a legend listing accreditations, and a key to transcript notations.
The University of Saint Joseph now offers an electronic transcript format (e-transcripts) along with the traditional paper copies that we have always provided through a service called Parchment Exchange:
Easy website that walks you through placing an order and making payment
Order is made 100% online – no additional forms needed
You can order as many transcripts as you need in one order
The website is available 24 hours a day
Order using any device and most current web browsers (Note: Internet Explorer browser is not supported.)
Order status and order history is available online
Ability to request e-transcripts or paper copy in one order
Expedited shipping available
*NOTE: If you are required to send a supplemental form with your transcript, contact our office at 860.231.5225 before you request a transcript using Parchment Exchange.
Instructions for Requesting an Official Transcript
To obtain an official transcript:
Create an account in Parchment by clicking on the New Learner Account link, or, if you have already ordered transcripts before through this service, you will simply log in at the same link and enter through Existing User Account.
In order to create an account in our system you will need to provide identifying information such as:

Name
Date of Birth
Last 4 digits of the Social Security Number (SSN)
Dates attended
Email address and password
Student ID number (current students only)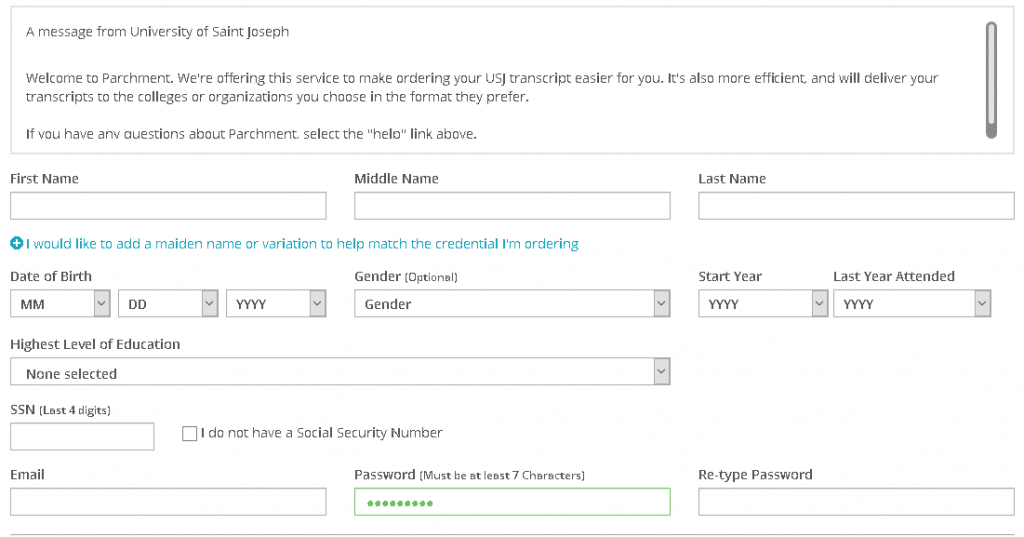 A verification code will be sent to the email address you provided.
Next Steps:

Select a Destination; either from the list of Parchment participators or another destination
Select if you prefer an e-transcript or paper copy
Choose send now or hold for grades or degree
If special shipping is required check expedited shipping
Payment is made via Credit/Debit card
Submit signature so that USJ can release your transcript
Review order

Log out of Parchment.
---
Unofficial Transcript Request
Payment: No Charge
Use this form to request an unofficial transcript
Mail, Fax, or Email Your Unofficial Transcript Request To:
Address:
University of Saint Joseph
Office of the Registrar
1678 Asylum Avenue
West Hartford, CT 06117
Fax: 860.231.8396
Email: [email protected]