Sport Management Undergraduate Certificate
Sport Management Undergraduate Certificate
Combine your passion for sports with your career
Enhance your degree and pursue your passion for sports by earning the credentials and knowledge to succeed in Sport Management. This certificate will prepare you to work for a sports organization or team. Develop your skills and learn concepts in areas related to athletic administration, marketing, and event management.
Quick Links
Send Me Info 360° Tour Program Curriculum Tuition and Fees Contact Us
Advantages
Add a specialization to your degree
Flexible Course Offerings: Both day and evening
Complete your certificate in two years or less
Program Curriculum
Earn your certificate in just four courses (12 Credits)
MGMT 105:Introduction to Sport Management
Choose from any three other Sport Management courses from the following list below:

MGMT 206: History of Sport
MGMT 318: Event Management
MGMT 319: Venue Management
MGMT 394: Sport Marketing
MGMT 418: Ethics in Sport
The following restrictions apply:
Sport Management and Promotion majors are not allowed to earn the Sport Management Certificate
Any course already taken for the use in satisfying a USJ major will not be counted toward the Sport Management Certificate
In the event that a course has already been taken in satisfying a USJ major, the substitution of another Sport Management course with the Department Chair approval will be accepted towards the Sport Management Certificate
---
Sport Management Internships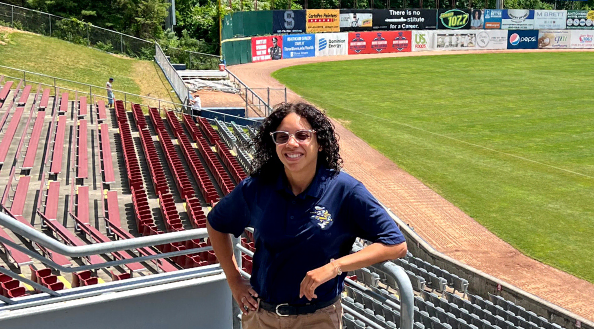 Pictured: USJ's Samantha Pena '22 fulfills summer internship at the Norwich Sea Unicorns Baseball Stadium, Norwich CT
Career Connections
USJ's close proximity to downtown Hartford, along with other urban areas, has given USJ students the opportunity of interning at professional sports organizations and companies including:
Questions?
Contact:
Janet Howes, Ph.D.
Assistant Professor of Business Administration
Phone: 860.231.5395
Email:[email protected]