Special Education, B.S. with Teacher Licensure
Special Education, B.S. with Teacher Licensure
USJ's Special Education program helps individuals develop the skills they need to make a personal and professional impact
A B.S. in Special Ed is a popular choice for students who desire a high-impact career. Learning is an intensive, personalized experience that demands both individual and collaborative group effort.
Program Fact Sheet Program Curriculum
USJ's Special Education Major Features
Coursework in disabilities, law, specialized curriculums and instruction, adaptations, assessment, and positive behavioral supports
Close faculty mentorship in a supportive community
A coordinating seminar (SPEC 499), which is an important capstone experience
USJ graduates are able to work with a wide range of ages and disabilities, in both public and private settings. They are knowledgeable and confident practitioners, ready to meet the rewards and challenges of this field.
Questions?
Contact
Ashley Oldham, Ph.D., Assistant Professor of Education in the Department of Education/Special Education at [email protected] or 860.231.5356
---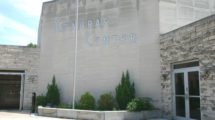 Check Out Our Gengras Center for Applied Research & Education
Click Here for More Information