Doctor of Nursing Practice, DNP (Post-Master's)
Doctor of Nursing Practice, DNP (Post-Master's)
Now that you have your Master's degree in Nursing, advance your career with a Doctor of Nursing Practice (DNP) in Clinical Leadership
Gain strong knowledge of nursing scholarship, clinical practice, health promotion, disease treatment, and the skills necessary to work in a changing and evolving health care environment in USJ's DNP program.
With your DNP, gain the foundation to work in leadership roles in patient care, with policymakers in public health departments, in research facilities, pharmaceutical companies, at the management level in doctor's offices, or private practice.
Program Benefits
Accredited By The Commission On Collegiate Nursing Education (CCNE)
1:1 faculty advisor/student ratio for scholarly projects
Most universities hire DNP-prepared nurses for full-time faculty positions, on both tenured and non-tenured tracks
Hospitals and health care organizations recognize the DNP for executive and leadership positions
You can work as a DNP-prepared nurse practitioner providing direct patient care, improving patient care outcomes, and performing quality improvement projects.
About USJ's DNP Program
USJ's nationally recognized faculty, small class size, and hybrid format are all reasons nurses choose USJ's DNP program. Current students enjoy dedicated clinical sites, opportunities to get involved locally and globally (Guyana Immersion Experience) and a practice-focused curriculum.
DNP – Clinical Leadership
Become a leader with an advanced degree to provide optimal care within a primary care practice. You will gain greater expertise to become a leader who can work with clinical partners to improve the health care provided to patients as you analyze and use evidence-based data to improve outcomes. This program offers specialized courses and clinical practicums to expand your advocacy skills to affect system changes, and research population health and health care practices.
The curriculum meets the requirements of the AACN Essentials of Doctoral Education for Advanced Nursing Practice.
With a specialization, you will be prepared to take the next step in your nursing career. Which is right for you?
DNP – Family Nurse Practitioner (FNP)
Do you want to become a specialized health care leader integrated in a cohort of patients while using a community health perspective to improve the quality of care and outcomes? You'll use the knowledge gained from this program to support your organization's patients with evidence-based best practices to assess common health problems, information technology, and practicums in the care of families.
After successfully graduating from our online FNP program, you may sit for national certification from the American Association of Nurse Practitioners or the American Nurses Credentialing Center.
DNP – Psychiatric Mental Health Nurse Practitioner (PMHNP)
Do you want to develop your knowledge and skills in the behavioral and biological disciplines and then apply your learning to the treatment of psychiatric disorders within individuals, families, and groups? With this program, you will be prepared to work in a variety of clinical settings with a full range of therapies to improve the quality of care for your patients throughout their life. Students will have access to practicums with psychiatric mental health providers in the community supervised by faculty.
After successfully graduating from our online PMHNP program, you may sit for national certification as a lifespan PMHNP by the American Nurses Credentialing Center.
---
Requirements
Must be a Registered Nurse with a Master's degree in Nursing
Must complete 45 credits over a two to four year period in conjunction with your plan of study, created and approved by the program director.
---
DNP Program Outcomes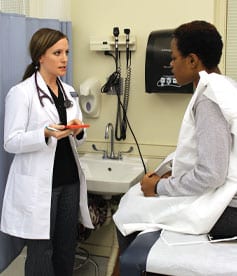 This degree will provide you with a broad perspective that includes holistic health care for your patients including understanding how social and economic factors influence health outcomes.
Apply scientific knowledge, evaluation methods and quality improvement strategies to advance evidence based clinical practice and improve health care systems and outcomes. (Essential 1, 2, 3,8)
Lead organizations and systems as a practice scholar through the application of quality improvement strategies, systems thinking, and information technology. (Essential 2,3, 4 8)
Advance patient and population health outcomes through scholarship, advocacy, leadership, and communication/collaboration with multidisciplinary teams.(Essential 5, 6, 7, 8)
Influence public policy to minimize health disparities and promote access to quality care. (Essential 5, 7, 8)
DNPs are employed in a range of roles from hospital CEOs or directors, public health leaders, to teachers or professors.
Application Information
To get started, please submit:
Completed application available at www.usj.edu/apply
$50 non-refundable application fee
Official transcripts from all institutions (degree conferring and non-degree conferring); must meet 3 of the 5 following criteria for the rest of the application to be considered:

B- or better in all nursing and math courses
C or better in all other courses
No repeated courses
No withdrawals
Completed original plan of study on time

Three letters of recommendation
Program essay: How will a DNP degree from USJ help you meet your professional goals?
Nursing supplemental health form
Copy of valid nursing license on admission
Background check (not required for admission)
On-campus interview
Visit www.usj.edu/visitus to register for upcoming events
If you strive to work hard in pursuit of educational excellence, make improvements in health care systems, and advance nursing practice through leadership, collaboration, and advocacy, then you are ready for the DNP program at the University of Saint Joseph. Discover your passion, as I did, at USJ.

– Valencia Chicoine, M'12, DNP'16