Class Notes
Keep the USJ Community informed!
Submit news on your career, family, education, and more for the next edition of OUTLOOK magazine's Class Notes below or contact Katie DaSilva Burke '15, M'17, director of Alumni Relations, at 860.231.5364 or [email protected]
Class Notes Can Include:
Career news
Promotions and awards
Family news
Education updates
Other information you'd like to share
Submit your class note!
Please send us your photo by emailing [email protected]
---
Alumni Spotlights
Explore these extended interviews from USJ Alumni.
Fall 2022 Class Notes
Class Notes listed below will be updated with every new issue of OUTLOOK.
The work of Rosemary Boccalatte Molloy '60 was featured in an art show entitled "At Home and Away" at the Hyde Park Library. Impressionist landscapes in pastel, watercolor, and oil were featured.
Gustina Petro Sullivan '64 became a grandmother on June 17, 2021, to Avery Noel McClendon!
Eleanor Connelly Burke '64 is the President of the Greenfield Garden Club in Fairfield, Conn. She won a Blue Ribbon and Special Award in the Club Division at the Federated Garden Club of CT 2022 Flower Show "Rhythm & Blooms."
Paula Ballantyne DeSilva '68, DAA'18, Ph.D.; Janice Thompson Young '68; Barbara Guzewicz Mahoney '68; Joan Kusek Stevens '68; Dee Cote Thibodeau '68; Michelle Beaudoin Jakielo '68; and Maureen Dziados Kreh '68 got
together for a luncheon at Wood N' Tap in Rocky Hill, Conn., in June.
Linda Rizk Noujaim '70, M'74 and Selim George Noujaim celebrated their 50th wedding anniversary with a Mass at Saints Peter & Paul Church in Waterbury, Conn., followed by a reception at La Bella Vista at the Ponte Club, also in Waterbury, on April 23, 2022.
Patricia Ennis Booker '72, M'80 represented USJ as a delegate at the Rice University Presidential Investiture in Houston, Texas.
Linda Kautz Macy '72 and her husband Terry celebrated their 50th anniversary last year and recreated their honeymoon stops from 50 years ago!
Members of the Class of 1978 enjoyed each other's company in Old Saybrook, Conn. Left to Right: Aelish Sullivan Clifford '78; Kate O'Neill Sigmon '78; Liz Burns
Herbst '78; Teresa Iorio Greenberg '78; Coleen Leary Pazzani '78; LuAnn Pagnini Malnati '78; Debbie DiBiase Morrone '78; and Anne Marie D'Amato Mangan '78.
Rita Troy Weidman '79, RN, MPH, is pictured with her daughter Gianna following Gianna's concert at Cornell University where she completed her first year in May.
President Joe Biden appointed Marilynn Roberge
Malerba '83, H'10, DAA'17, DNP, as U.S. Treasurer, the
first Native American to hold the position!
Mary Gardocki Mazur '83 recently retired as a Registered Nurse after a career spanning almost 40 years. She is looking forward to spending time with her husband and adult children
and traveling. She is very proud that her youngest son will be attending USJ to complete his Master's in Secondary Education this fall.
Leslie Palleria Landry '85 loves spending time seeing historic places in Connecticut
and Philadelphia, Penn., and spending time with her husband Bruce and her cat, Bastet.
Holly Raymond Sheehy '85 retired on June 9, 2021, after teaching for 36 years in the
Naugatuck School System. Now she enjoys traveling and spending lots of time quilting.
Susan Girolomoni '86, M'91 retired in July 2022, after 35 years in education.
In July 2022, Sharon Arsego '92 transitioned her career from the private sector
that had included radio, telecommunications, and sales administration support to a position with the Dept. of Economic and Community Development for the City of Bristol, Conn. She is especially grateful to USJ for the foundation it provided for her.
Mary DeLucia Savoye '94 writes "As I read the Outlook Alumni Magazine, I reflected on how much the University of Saint Joseph (College when I attended) prepared me to enter my field. Although I have many comforting memories of Saint Joseph's, my first is of the Financial Aid Department. The staff was so approachable, which was a huge relief!
Gianna Gurga '11 was inducted as an inaugural member of the EVERFI Hall of EVERFame for her work and contributions as a Teacher Ambassador and advocate for financial literacy education in Grades 6-12.
Patrice Hayes Cirucci '14, M'16 and her husband welcomed a beautiful, healthy daughter, Eila Marietta Cirucci, in June.
Katie DaSilva Burke '15, M'17 and her husband welcomed a
baby girl, Aria Rose Burke, in May 2022.
Jasmine McLean '16, M'18 graduated with a second master's degree in Human Sexuality Studies with a concentration in Clinical Sex Therapy at Widener University in Chester, Penn. in May 2022. She has been accepted to the Doctor of Social Work program at Southern
Connecticut State University. Jasmine is currently working as an Outpatient Supervisor at a trauma clinic for children.
Patrick Filkins, Pharm.D. '19 was welcomed into the toxicology family as he received his DABAT certification. He is one of eight candidates to pass the exam since 2020. Patrick is now part of a small group of Pharm.D. toxicologists, becoming one of only 136 to successfully pass
the ABAT exam since 1987. He is working in Atlanta in poison center administration and as
an ED pharmacist.
James Dowling-Healey, M'22 (and grandson of Louise Toole
Healey, M'80), recently received a Master of Science
in Biology and a Graduate Certificate in Environmental
Science from the University of Saint Joseph. James was
inducted into Beta Beta Beta (TriBeta) Biology Honor
Society and worked as an adjunct faculty member.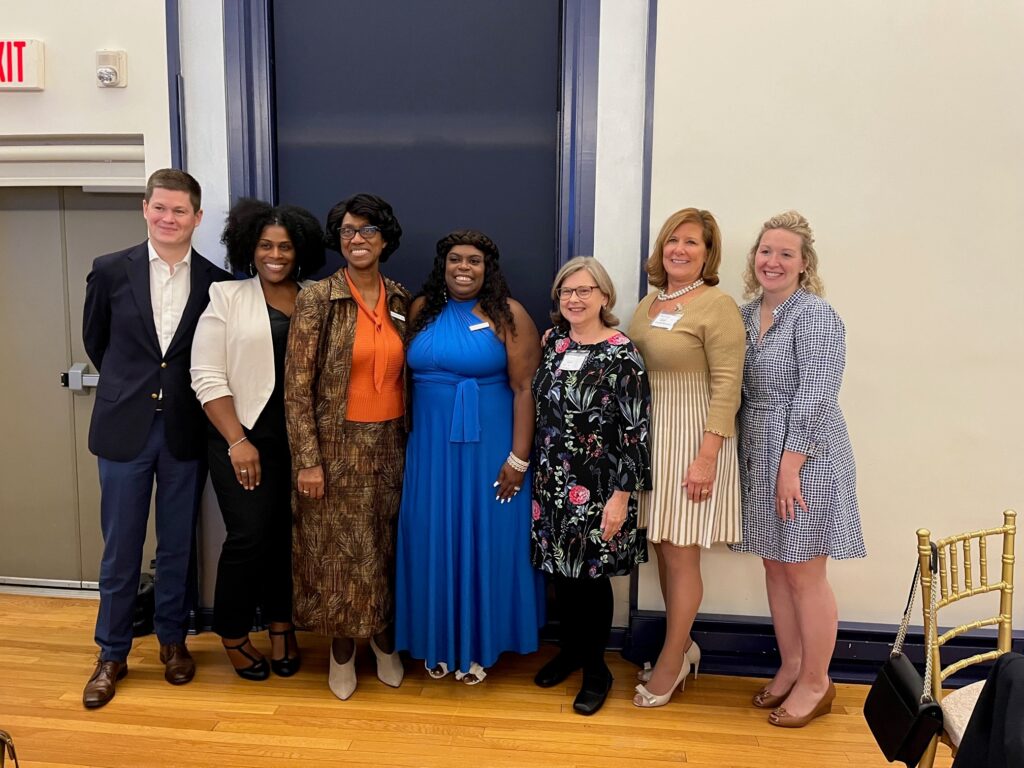 USJ alumnae Charlene Russell-Tucker '85 and Tangie McDougald, M'16 were the
featured speakers at Town and County Club's annual Scholarship Dinner. Pictured left to right are: Andrew Ferguson; Shakira Perez '00, M'09; Charlene RussellTucker '85; Tangie McDougald, M'16; USJ Director of Clinical Practice (Education) Dianna Wentzell, Ed.D.; Sarah Barzee '84, M'89, DAA '14, Ph.D.; and Emily Pallin.