2014 Exhibitions
I Write Your Name, Part III: The Amistad Center @ USJ
September 13 – December 14, 2014
This exhibition is the third and largest installment of works from the Amistad Center for Art & Culture that is being shown at the Art Museum, USJ while The Amistad Center's galleries at the Wadsworth Atheneum Museum of Art are closed for renovation. The Amistad Center's collection of art, artifacts, and popular culture objects document the experience, expressions, and history of people of African descent. The selection of works on view at the Art Museum not only resonates with the USJ School of Humanities and Social Sciences' 2014-15 academic year theme, "Peace and Human Rights," but also provides the opportunity for "dialogue" with works from the Art Museum's permanent collection. Among the Amistad Center's works in I Write Your Name Part III are prints by Richard Hunt, Jacob Lawrence, and Benny Andrews as well as photographs by Carrie Mae Weems, Timothy Greenfield-Sanders, Lorna Simpson, and Addison N. Scurlock. In addition to photo-based works by Hank Willis Thomas and Ryan Alexiev, the exhibition also features sculptures by Richmond Barthé and Willie Cole. Selections from the Art Museum, USJ include works by Jacob Lawrence, Richard Hunt, Betye Saar, and Faith Ringgold. I Write Your Name is supported in part by a grant from the Edward C. and Ann T. Roberts Foundation.
---
War/Peace
September 13-December 14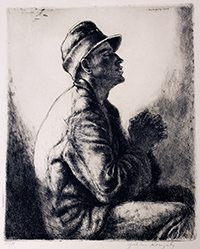 Organized in conjunction with USJ's School of Humanities and Social Sciences' academic year theme of Peace and Human Rights, War/Peace presents sixteen twentieth-century works on paper depicting the period 1914-1945: World War I, the interwar years, and World War II. Artists represented in this exhibition include Kerr Eby, Georges Rouault, Käthe Kollwitz, Muirhead Bone, and others.
---
In Plain Sight: Photographs By Liu Bolin
July 9 – August 31
Contemporary Chinese artist Liu Bolin has become known world-wide for photographs in which he camouflages himself to disappear into the background. Often called the "Invisible Man," he exposes tensions between society's rapidly-changing environment and the individual. Noting that the backgrounds he chooses show the many social problems that have emerged in the course of China's modern development, he states "from my perspective, the meaning of human beings has been constantly annihilated in modern society. While the living environment is improving, people are effacing themselves — what a great contradiction!" With each new work he asks himself "Why would making myself invisible here cause people to think?"
Museum Talk: Wednesday, August 6 at 5:30 p.m., followed by a reception.
Image: Lui Bolin (Born 1973). Hiding in the City No. 94 – In the Woods, 2010. C-Print. Courtesy Klein Sun Gallery, New York. © Liu Bolin