Shared Space: A New Era | Photographs from the Bank of America Collection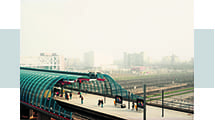 September 13 – December 15, 2019
Opening Reception: Thursday, September 12, 5-7:30 p.m.
Shared Space explores an evolving social landscape captured in photographs and video created over the span of nearly twenty-five years. Nineteen artists from eleven countries explore how the physical spaces in which we interact – from city streets to rural landscapes – have evolved alongside our access to a virtual "global village."
The exhibition's point of departure is 1987, the year U.S. President Ronald Reagan and Soviet General Secretary Mikhail Gorbachev signed the Intermediate-Range Nuclear Forces Treaty (INF). Along with the fall of the Berlin Wall in 1989 and the dissolution of the Soviet Union in 1991, this marked the end of the Cold War era and the beginning of a swift social, economic, and political revolution that rapidly transformed Europe. Parallel to these events was the beginning of a technological revolution. The invention of the World Wide Web created a vast digital world without borders and ushered in an era of globalization. Newly developed tools—including personal computers and mobile technology—enabled access anytime and anywhere via a "virtual commons."
Artists from the United States, Canada, Germany, the Netherlands, India, Iran, Italy, Mexico, and Switzerland offer a view into the complexities of this era through photography and video—visual modes of communication made ubiquitous by new technologies. Shared Space explores the ways in which our homes and backyards, city streets and plazas, ports and airplanes, and urban and rural landscapes have evolved through globalization of our communications and collective space.
"Bank of America is pleased to support the Art Museum at the University of Saint Joseph and honored to share works from our collection with the community through our Art in our Communities program," said Joe Gianni, Greater Hartford Market President, Bank of America. "At Bank of America, we believe in the power of the arts to help economies thrive, educate and enrich societies, and create greater cultural understanding.
"We are delighted that the generosity of Bank of America has made it possible for us to host Shared Space: A New Era, bringing works by an international roster of superb photographers to our Greater Hartford community," said Ann H. Sievers, Director of the Art Museum.
Artists: Hans Aarsman, Olivo Barbieri, Wout Berger, Edward Burtynsky, Philip-Lorca diCorcia, Ken Fandell, Günther Förg. Ben Gest, Andreas Gursky, Barbara Klemm, Bertien van Manen, Shirin Neshat, Thomas Ruff, Tokihiro Satō, Raghubir Singh, Beat Streuli, Thomas Struth, Sze Tsung, Nicolás Leong, and Massimo Vitali.
Public programming includes:
Family Day at the Art Museum: Sunday, November 24, 1–3 p.m., featuring activities in the exhibition galleries. Free and open to the public, no advance registration required.
THIS EXHIBITION HAS BEEN LOANED THROUGH THE BANK OF AMERICA ART IN OUR COMMUNITIES® PROGRAM.