Faculty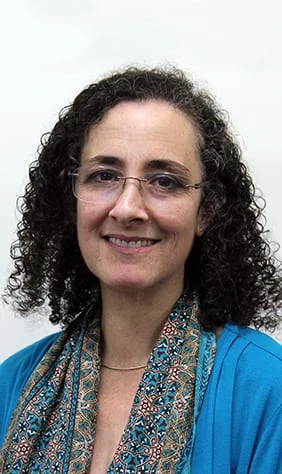 Agnes B. Curry, Ph.D.
Professor of Philosophy
Joined USJ:
Academic Degrees Ph.D., Philosophy, Fordham University
M.A., Philosophy, Fordham University
B.M., Piano, Benedictine College
B.A., Philosophy, Benedictine College
About
Agnes B. Curry, Ph.D. is a Professor of philosophy and Director of the Core Curriculum. In all her teaching and research, Dr. Curry is concerned about drawing connections between philosophical ideas and our lives and individual experiences.  She sees philosophical ideas embedded in all the things we do in everyday life, and she stresses how the first step in learning to think for oneself is to start recognizing how all the ideas around us are working to shape our experience without our realizing it.  Dr. Curry came to philosophy through prior studies in music and science and she loves learning about all sorts of new things.  She regularly teaches Discovering Philosophy, ethics courses including Food Ethics and Philosophy of Race, and Women Philosophers.
Affiliations
Managing Editor, Studies in Native American and Indigenous Philosophy, American Philosophical Association national Committee on Native American and Indigenous Philosophers
Publication Jury Member, Association for the Study of Buffy+
Professional Academic Memberships, American Philosophical Association; Association for the Study of Buffy+; Association for the Study of the Contemplative Mind
Board Member, Spiritual Life Center, West Hartford, Connecticut
Member, Spiritual Directors International
Courses Taught
PHIL 110 Thinking Nimbly: Logic and Creative Problem Solving
PHIL 120 Discovering Philosophy and Discovering Philosophy Honors
PHIL 235 Philosophy of Race
PHIL 325 Food Ethics
PHIL 350 Women Philosophers
INTD 301 Mercy Integrative Seminar – topics include Climate Change, Fast Fashion/Sustainability in the Textile Industry, Universal Healthcare
Publications
Dr. Curry's chapter called "'The Wound is Where the Light Enters': Bringing our Impure, Journeying Selves into our Teaching," is in Academia from the Inside, edited by Maureen P. Hall and Aubrie Brault (Springer Nature, 2021).
Dr. Curry thinks scholarly collaboration is important and is currently working on a book with Dr. Josef Velazquez of Stonehill College on values construction in television shows.
A chapter co-written with Maureen Hall, Elizabeth Jones, and Narelle Lemon called "Tapestries of Teaching, Scholarship, and Personal Growth: Stories from a Community of Practice (CoP)," is in Faculty Learning Communities: Communities of Practice that Support, Inspire, Engage and Transform Higher Education Classrooms, edited by Kristin N. Rainville, David Title, and Cynthia Desrochers, to be published in 2023.
She recently learned that a previous publication "We Don't Say Indian: On the Paradoxical Construction of the Reavers," will be translated into French for the journal Slayage (https://www.whedonstudies.tv/journals.html) to appear in December 2022. Other works on television and movies are at Slayage or in books.
Dr. Curry's introductions to each issue of Studies in Native American and Indigenous Philosophy can be found at https://www.apaonline.org/page/native_american_apastudies.
She has worked with other partners to edit the following books:
– Karol Wojtyla's Philosophical Legacy. Council on Research in Values and Philosophy, Catholic University of America 2008 (with Nancy Billias Mardas and Charles McLean),
– Framing Evil: Portraits of Terror and the Imagination. Inter-Disciplinary Press, 2008. (with Nancy Billias Mardas)
She worked with Anne Waters to edit a series of books in Indigenous Philosophy for the State University of New York Press. Books in this series include: Chike Jeffers, Ed., Listening to Ourselves: A Multilingual Anthology of African Philosophy (SUNY Press, 2013) and Thomas Norton Smith, The Dance of Person and Place: One Interpretation of American Indian Philosophy (SUNY Press, 2010).
Research
Dr. Curry research interests include 20thcentury ethics and social philosophy, Native American and Indigenous philosophy, and how moral and spiritual values are constructed in popular media and taken up by people seeking meaningful lives. Dr. Curry has had a long-term interest and practice in meditation and contemplative prayer, and her community service outside USJ includes work as a Spiritual Director for people of diverse faiths and spiritual outlooks.