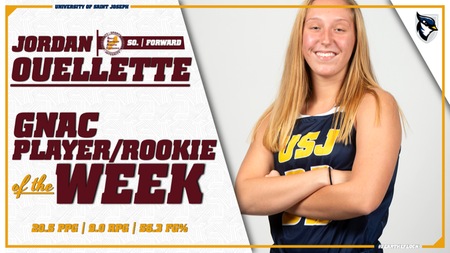 Sophomore forward Jordan Ouellette of the University of Saint Joseph women's basketball team was named both the Great Northeast Athletic Conference (GNAC) Player and Rookie of the Week, it was announced by the conference front office on Monday afternoon in its seventh weekly report of the 2021-22 season. It marks the first career GNAC weekly honors for Ouellette and the first for the USJ women's basketball team this season.
Ouellette kicked of 2022 with back-to-back 20-point performances and nearly averaged a double-double to lead the Blue Jays on the week. In the first two contests of the new calendar year, Ouellette averaged 20.5 points and 9.0 rebounds per game, while shooting 56.3% (18-32) from the field and 83.3% (5-6) from the free-throw line. Ouellette opened the week with 20 points (9-15 FG) and five rebounds on Tuesday in a setback on the road at GNAC powerhouse Saint Joseph's College of Maine. The 5-8 Bristol product followed that up with a monster 21-point (9-17 FG), 13-rebound double-double at home on Saturday, where the Blue Jays were edged in the final seconds, 71-70, by Rivier.
Ouellette has now scored 20-plus points in five of her last six outings and leads the Blue Jays on the season averaging 15.9 points per game. She also currently leads the GNAC in field-goal percentage, shooting it at a 56.2% clip through the team's opening 11 games.
Congratulations Jordan!