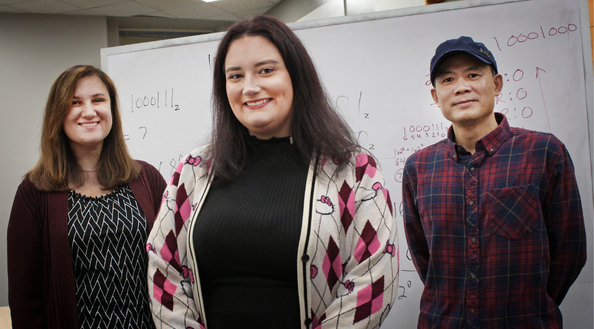 For University of Saint Joseph undergraduate student Anna Fält math has always been her favorite subject. Her dad gave her addition/subtraction and multiplication/division problems suitable for her abilities as a young girl and they computed mental math problems while waiting in lines.
It is not surprising then that Fält wanted to become a math teacher. But in high school her teachers dissuaded her from the low salary and high stress level. They encouraged her instead to concentrate on engineering as a more lucrative career option.
Fält followed her teachers' advice. She began her college career as a Chemical Engineering major with a minor in Math at a large state school, but she struggled with academic and personal challenges over the next two years and her grades plunged. When she applied to the University of Saint Joseph as a transfer student with a GPA under 2.0, she had to write a letter making a personal appeal for admission.
USJ accepted her, and Fält's life took a happy turn.
"USJ helped reshape my life," says Fält, who is currently on track to graduate summa cum laude this spring. She arrived on campus in the fall of 2021 as a Math major and added a concentration in Computer Science as she began to excel. She was named to the Dean's List in fall 2021, spring 2022, and fall 2022, and holds a 3.9 GPA. She also received the Dora and Antonio Iadarola Award for excellence in Mathematics and Computer Science, an annual award given by the department to an outstanding student in the program.
USJ's Student-Centered Learning in the Math Department Key to Fält's Success
Reshaping Fält's life started with math. "The way the Math department is built at USJ helps students to truly learn the material, not just test well on it, then forget it," Fält said. "The faculty doesn't give up on students if they get an initial bad grade and so students don't give up on themselves. They keep working until they learn the material, getting multiple opportunities to retake tests. I love that the department absolutely cares about its students and helping us learn."
Fält said that understanding the deeper reasoning behind solving mathematical problems helps her and other students grasp the concepts. She credits the USJ's Math faculty focus on the why and how math formulas are derived from proofs, and she called Associate Professor and Chair of Mathematics Ekaterina Lioutikova, Ph.D., "an absolute genius."
Associate Professor Lioutikova said, "Student-centered learning is catching on across the country, but it takes a lot more work. It is inquiry-based, where students collaborate with each other, explore, and make conjectures. With this approach there aren't recipients but rather creators of knowledge. This is what made the difference for Anna. She's a great mathematical thinker, but she is not satisfied with rote learning; she wants to know things on a deep intellectual level by participating in her own learning."
Associate Professor Lioutikova gave a concrete example from language. "Imagine you are learning a new language, and you learn hundreds of words. You have to memorize rules for learning how to combine the words, but you never know what the words mean. This is often the case of learning math by rote."
USJ's Student-centered Approach Extends Beyond the Classroom
The USJ approach does not end in the classroom and Fält, again, is a good example of this. She loves to talk about the positive impact of a resume workshop organized through the Actuarial Sciences program but open to all students in the Math department. The workshop is sponsored in conjunction with The Hartford; five Hartford employees came to USJ and met individually with students, giving advice for resume building. Fält's session resulted in a connection with The Hartford mentor who continues to check in with Fält and promised to share job openings at The Hartford this spring. Fält thinks her math and computer science background bridges two worlds and appeals to employers.
USJ'S B.S. in Math with a Computer Science Concentration Creates Appealing Combination for Fält and Employers  
The Math department's unique offering of a B.S. in Math with a Computer Science concentration is allowing Fält to use her prior engineering and computer science background as part of her reclaimed dream to be a math teacher. In fall 2022, she became a tutor for Professor of Computer Science and Mathematics Hong Zhou, Ph.D., who was also director of the Computer and Data Science Program and the person who encouraged her that first semester to add a concentration in the subject. Fält has taken three courses from him.
"Anna keeps impressing me," Professor Zhou said. "I consider her a model student, the best student a teacher could ever have." He said Fält is extremely intelligent, is always the first to submit homework and the most active one in class. But what impresses him the most about her is her passion for helping others. "She always shares her understanding with other students to help them."
Professor Zhou also talked about Fält's work as a founding member and vice president of USJ's new chapter of the Association for Computing Machinery (ACM). "Anna is a leader of women in computing. She not only excels in a male-dominated field but also is a role model."
Beyond the Classroom: Creation of Student Chapter of International ACM
It is that unique opportunity to combine her two loves, math and computer science, that inspired Fält to help found USJ's chapter of ACM, with her as vice president and 20 members to date. The students are getting local businesses to donate computers, microphones, keyboards, HDMI cables and any other computing/tech items to high school students from disadvantaged backgrounds. The goal is to provide equipment that high school students would need to do their homework at home.
The current director of the Computer and Data Science program, Associate Professor of Mathematics and Computer Science Thomas Calabrese, Ph.D., spoke of the extensive support ACM gives university computer science programs, including connections to industry. He said, "They also have a sub-organization – The Organization for Women in Computer Science that we will be enrolling in this Spring. Having a woman leading our organization demonstrates USJ's commitment to the advancement of women in technology fields. Anna is a wonderful choice as both a leader and an example of one of our finest students.
Amid all of it, Fält has been busy applying to graduate schools in Education; she has been accepted to USJ's program–her first choice—and plans to attend. This spring she will dance in the USJ dance ensemble's show April 23 commemorating the University's 90th anniversary.
About the turn her life has taken, Fält says, "USJ has made me so happy."