New Hybrid Offerings!
GRADUATE EDUCATION PROGRAMS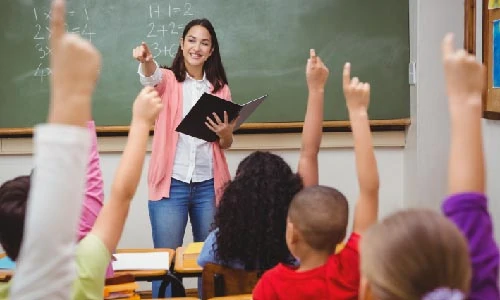 Compassionate teachers with the knowledge and skills to meet the diverse needs of children are in high demand. To help meet the urgent need for new teachers in Connecticut schools, the University of Saint Joseph will offer three of its Education Masters' in Arts in Teaching (M.A.T.) programs in hybrid format for the coming fall. Each of these two-year M.A.T. programs are specially designed for individuals with bachelor's degrees who are considering a career in teaching but may be working in other fields. USJ's hybrid M.A.T. programs combine the best of on-line and in-person learning taught by experts in the teaching profession.
Programs offered in hybrid, synchronous real-time, interactive format are: the M.A.T. in Special Education – Comprehensive, the Early Childhood/Special Education M.A.T., and the Elementary Education M.A.T. 50% or more of the total number of non-student teaching class sessions in the program will be remote, while incorporating interactive learning experiences on-line with remaining in-person class sessions. Individual course syllabi will indicate which class sessions are remote (synchronous) and which are held in-person. The total excludes student teaching, which must be completed in-person in accordance with Connecticut State Department of Education regulations.
"USJ is known for our rigorous teacher preparation, and we are excited to offer these distinguished M.A.T. programs in a new hybrid format that responds to the call to make teacher preparation more accessible. If you want to become a teacher in Connecticut, there has never been a better time to join us at USJ," said Associate Professor and incoming Chair of the Education Department, Ashley Oldham, Ph.D.
A new cohort begins each fall and applications are accepted through a rolling admissions process until classes begin. The M.A.T. in Special Education – Comprehensive prepares Special Education teachers grades K-12. The M.A.T. in Early Childhood Education/Special Education leads to recommendation for licensure to teach pre-kindergarten through grade 3. The M.A.T. in Elementary Education prepares students over the course of the two-year program for recommendation for licensure to teach grades 1-6.
If you are interested in making a difference in the lives and learning of children, learn more about USJ's Hybrid Education M.A.T. programs here.