STUDENT SPOTLIGHT!
Sport Management and Promotion, B.S.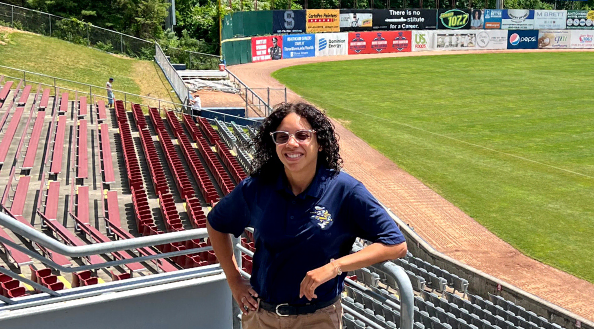 In this season of summer sports and cheering crowds, undergraduates in USJ's Sport Management and Promotion program are turning their passion for sports into careers in the field. They join a growing movement; the U.S. Bureau of Labor Statistics has said that sports occupations are projected to rise 22% in the next ten years, whereas total employment projected growth rate is 7.7% for that time.
Samantha Pena '22 is one of those students, interning with the Norwich Sea Unicorns as part of her requirement for the B.S. in Sports Management and Promotion. "There is nothing better than working at something I enjoy. It is tiring, but fun," Pena said. She is gaining experience at the Norwich Sea Unicorns with ticket office operations, marketing and promotions, merchandise, field maintenance, and more.
Despite long hours, she has been gaining plenty of relevant work experience, thanks to USJconnections. From 5 a.m. to 1 p.m. Pena works at Rockledge Golf Course in West Hartford,taking care of landscaping, raking bunkers, and getting it ready for golfers; then she is off to the Academy of Aerospace and Engineering in Windsor (a CREC school) to coach the middle school softball team. It was in a class taught by Assistant Professor of Business Administration and Director of the Sport Management and Promotion Program Janet Howes, Ph.D., that Pena learned of the coaching opportunity. Howes brought in CREC Athletic Director Jonathan Winer as a guest speaker and Winer shared that he needed coaches. But USJ's resources and support didn't end there. Strength and Conditioning Coach, Michael Jones, mentioned to Pena the internship with the Sea Unicorns and helped her get the interview, while Valerie Wilson, Assistant Director of USJ's Career Development Center, gave Pena a list of summer jobs that included the Rockledge Golf Course. Pena gets credit for securing each opportunity.
The B.S. in Sport Management and Promotion is an appealing major at USJ. The comprehensive curriculum covers sport events, marketing management, sports ethics and more. But the heart of the major comes from the two required internships. Through internships such as Pena's, students learn how to succeed in the global sports industry. Professor Howes has worked to set up some pretty interesting opportunities for students, including an opportunity for USJ students to participate in the Super Bowl. Kevin Bilbraut '22, among the first USJ graduates with his B.S. in Sport Management and Promotion, interned with and now has a job with the Hartford Yard Goats as Sponsorship Senior Associate. He was one of those students who had enviable internship experiences working the Super Bowl, and March Madness at the XL Center.
For students already committed to completing another major, who want to add a sports specialization to that major, USJ's program also offers a Sport Management Undergraduate Certificate. While students fulfill the B.S. major requirements over a four-year period, the certificate may be earned in two years.
Growing up, Pena said she was never sure what she wanted to be. "Being from NY, from the inner city, I had to leave home to find out what I wanted to do." As a first-generation college student, she attended a community college for two years and while there, searched for a sports management program. She chose USJ, a decision that is paying off.