Earn your degree online
and advance your career today!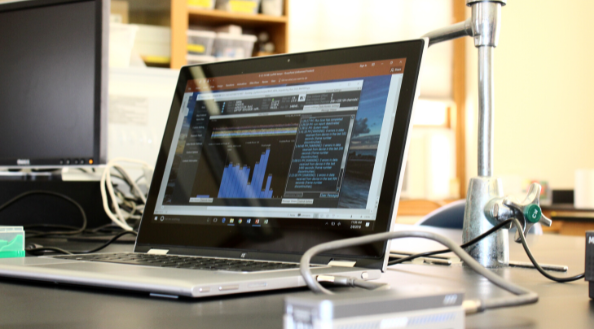 According to Georgetown's Center on Education and the Workforce, biology and life sciences majors with advanced degrees earn 63% more than those with bachelor's degrees. For those considering a switch or going back to school to advance a career, USJ's online M.S. in Biology program has successfully launched careers and offers a compelling choice. 
Ian Mersich, C '18, of Cleveland, OH, had been working in the pharmaceutical industry for about five years when he started contemplating going back to school. He didn't think he'd be a competitive applicant applying to doctoral programs directly, so he searched for online graduate programs and decided University of Saint Joseph's Master of Science in Biology program seemed like the perfect fit. 
Landing the Perfect Offer 
When Mersich saw that the program also offered an Integrative Genomics graduate certificate, "That interested me," he said, "I decided to get those classes out of the way first, which was nice because they were among the most interesting courses to me." At that point, Mersich started applying to Ph.D. programs, reasoning that if he didn't get accepted, he'd complete the master's program and apply to doctoral programs again the following year. But he didn't need to do that. He received multiple offers, completed USJ's integrative genomics certificate, and is now a Ph.D. candidate in Cancer and Cell Biology, at the University of Cincinnati College of Medicine.
Flexibility is Key 
According to Irene K. Reed, Ph.D., Associate Professor of Biology, Biology Department Chair at USJ, "Our M.S. in Biology program is extremely flexible. All our courses are online and asynchronous, and students can develop a customized plan of study. In other words, they can choose the courses they want to take to align with their interests and goals. Our courses span a variety of disciplines including cell and molecular biology, genetics and genomics, organismal biology, environmental science, microbiology, and physiology. We also offer thesis and non-thesis options to finish the program so that we can accommodate both research students and those who are only interested in the course work." 
How Flexibility Helped One Student with a Disability Advance Her Career 
The flexibility of USJ's program is something New Haven, CT resident Kali Mahrer, 'M22, (scheduled to take her comprehensive exams later this summer), knows well. As a student with cerebral palsy, she said, "It's hard for students with disabilities to join labs. My undergraduate experience at a large undergraduate institution was tumultuous because of this. I knew for graduate school I wanted a smaller college. I chose USJ's program in part because of this, but it turned out there were a lot of other advantages, too. My professors were so inclusive, if I needed something, all of them did whatever they could to help me." 
Mahrer completed the coursework for USJ's online M.S. in Biology and is now a Ph.D. student in Neuroscience at the University of Arizona. Her work is in the lab of John Streicher, working on opioid receptor signaling in order to develop non-addictive alternatives to opioids for pain management. Her current project focuses on specific small molecule inhibitors of molecular chaperones which help modulate perceptions of painful stimuli. Mahrer says she looks forward to the day her research will help deliver non-addictive pain killers. "I never expected to have a Ph.D., and I couldn't have gotten here without getting into the master's online program at USJ." 
Taking the M.S. in Biology Training into a Research Lab 
Stacey Zambo '17, M'19, of Ashford, CT, completed the online M.S. program in Biology and received a certificate in Integrative Genomics. While doing so, she worked as a graduate assistant, teaching Microbiology, General Biology, and Anatomy 1 and 2 labs, among other things. She's now a research assistant at Charles River Laboratories in Shrewsbury, MA. "I love my job, and the biology Master's program at USJ greatly helped to prepare me for it with critical thinking skills, perseverance, and structure. I feel as though I have an edge due to that preparation. I'm very happy I chose USJ." 
Five reasons to pursue a master's in Biology: 
Deepen your knowledge and contribute to research
Share knowledge through teaching
Apply knowledge to public service or private enterprise
Steppingstone to doctoral or professional program
Advance your current profession in teaching, industry, or biomedical science
More Reasons to pursue an online M.S in Biology at USJ: 
USJ classes are immersive and writing-based. Material is presented using a variety of multimedia –narrated lectures, reading, podcasts, videos, interactive websites, case studies–and students engage in discussions with their peers and develop strong writing and communication skills.
USJ class size is small and capped at 20 students. This facilitates close interactions with both the professor and the other students in the class. You will get to know your professors well, engage with them, and get detailed feedback on your progress throughout the course and develop strong interactions with your peers.
USJ also offers three 12-credit graduate certificates that can be taken as part of or independent of the M.S. degree – Integrative Genomics, Environmental Science, and Emerging Infectious Diseases.
Some of the jobs possible with a master's in Biology: 
Forensic Scientist 
Microbiologist 
Environmental Scientist 
Biomedical Scientist 
Epidemiologist 
Forester 
College Instructor 
Designed to fit the busy schedule of working professionals who want to pursue a higher degree, USJ's online Master of Science in Biology program offers flexible courses that allow students to study at their own pace. Learn more about the program here.