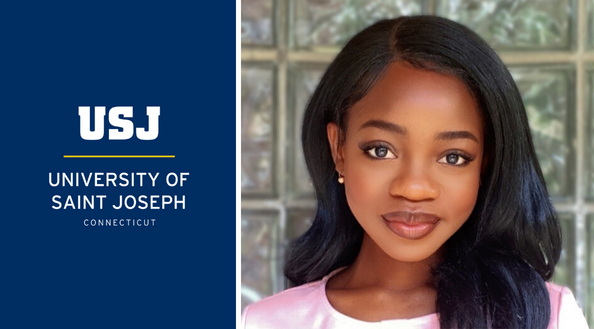 Gladencia Majule's path to being an Honors student at the University of Saint Joseph (USJ) started more than 7,000 miles away, in the East African country of Tanzania. Born and raised there by her mother, whom she calls "an incredible leader," Majule says she wants to follow the footsteps of the woman who she says, "lifted herself out of poverty through education, started her own school, and was recently elected to local politics." Majule added that she hopes to "be brave, study abroad, and to make a mark in this world just like she did."
Tanzania, known for its beautiful wilderness areas, including the Kilimanjaro National Park, and Africa's highest mountain, is also a country plagued by government corruption, and this problem area is where Majule wants to make her mark. Specifically, she'd like to become a lawyer and help improve her country's governance by making its institutions less corrupt.
"The way I see it, I have two options. I can go back to my home country and change the institutions to make them less corrupt or I can stay in the U.S. and advocate for policy changes, either at the United Nations or the Embassy." Majule isn't sure which path she will take, but she offered an example of one policy change she'd like to see: allow women to go to school after they face unexpected pregnancy. Right now, a law denies access to education to young women in Tanzania who become pregnant.
Again, one may see the influence of Majule's mother advocating for vulnerable students. In her school Majule's mother sponsors HIV-infected students, as well as young women who have suffered genital mutilation. "How could I not want to follow in her footsteps?" Majule says.
Four years ago, Majule left Tanzania for Schiller International University in Paris, where she studied International Relations. She transferred to USJ in the middle of her second year and switched her major to Political Science because "I became interested in how policies are made and how to influence them."
Her initial impression of Connecticut and USJ was that "the people were really friendly. Everyone has been so willing to help me. That's the first thing I noticed, just how much support I have received as I pursue my path." She credits Professor of History and Political Science Kenneth Long, Ph.D., and other USJ faculty, and the classes she's taken as opening her eyes to ideas, encouraging her "to think outside the box, to look deeper into things." Her path since coming to USJ has included two important internships as well as a packed campus life commitment.
In Fall 2021, Majule interned for the Office of the Connecticut Secretary of State, where she learned more about the inner workings of state government, directed constituent inquiries, and did an independent research project about how refugees, before gaining citizenship, engage in their communities.
But it was Majule's second internship this past summer as a legal intern for Eversource, that really helped her see herself as a lawyer. "At Eversource's legal department, I was awed that I got to sit at the table with judges, and law partners–amazing people who have accomplished so much. I got to listen to their life stories, including one law partner who had also been an international student and went through the same things as me. Through his story, I saw that with continued perseverance, I could one day get to that place, seated at the table."
Majule maintains a 3.9 GPA, is a cheerleader and was a member of the Student Government Organization until last semester. At the same time, she's found even more opportunities for giving back by being a Resident Assistant on campus. "Being a voice for other students, and a student advocate has also helped me see that I would enjoy that aspect of the law," she said.
Majule is set to graduate in May 2023 with a bachelor's degree in Political Science. She hopes to start law school in the fall; she plans to focus on international law, immigration, and human rights.
Though Majule hasn't been home to Tanzania since she left in January 2019, she spoke of the opportunities she's been given as a privilege she doesn't take for granted. "If we give people the opportunity to shine, especially those who haven't been given that opportunity, they will. I'm here today because people believed in me. Through those people believing in me, I'm able to stand where I am and tell the story I'm able to tell."