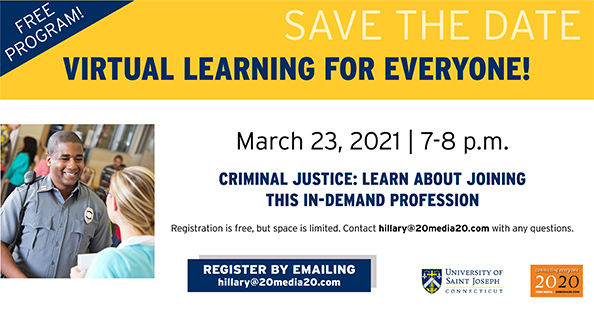 To meet the workforce needs created by the changing face of criminal justice, USJ recently updated the school's acclaimed Criminal Justice Bachelor of Science program with built-in flexibility to ensure graduates are workforce-ready in a broad array of careers within the profession.
"Part of the change (in criminal justice) includes a range of careers that require different preparation, education, and experience to qualify for," said USJ's Brian Enns, Assistant Professor of Criminal Justice. "In the past, criminal justice meant policing – now the range of careers includes victim psychology, social services, education and training, job placement, etc. We want our community to know that we are changing our program to meet the evolving nature of this important field and that there is workforce demand for anyone who wants to transfer into this field, complete a college degree, and or earn a new degree."
In March 2021, USJ hosted a virtual career forum starting with welcome remarks from President Free and including criminal justice leaders from the greater Hartford area:
Brian Enns, Assistant Professor, Criminal Justice, University of Saint Joseph
Kendra Herrick, Parole Supervisor, Department of Corrections, Division of Parole and Community Services
Emory Hightower, Supervisory Inspector, Office of the Hartford State's Attorney, State of Connecticut
Moderated by Brian Foley, Department of Emergency Services & Public Protection, State of Connecticut
Watch the recorded event below!