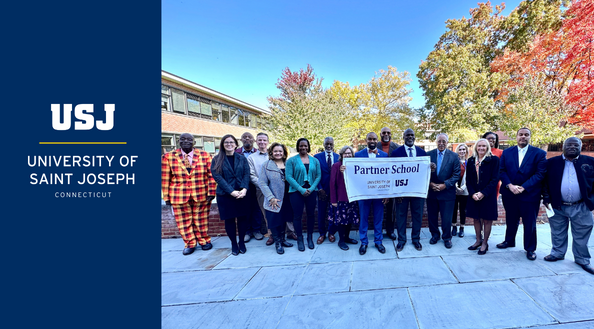 On Oct. 20, 2022, the Connecticut State Department of Education, Bloomfield Public Schools, and the University of Saint Joseph gathered at Bloomfield High School to celebrate their collective efforts to provide support with challenges such as the teacher shortage, and the substitute shortage.
USJ sought this partnership with Bloomfield Public Schools because of the leadership's data-driven approach to improvement, because of BPS's commitment to developing culturally competent educators, and because of the success BPS has had in attracting and retaining teachers and leaders of color. "The value this partnership brings to our school district is that we have benefitted from a number of the University of St. Joseph's student-teachers,'' said Bloomfield Public Schools Superintendent Dr. James Thompson, Jr. "There is also the professional development the university provides – and they are working with us on how we are going to further diversify our staff. We are looking forward to continuing this work with the university."
The schools have been partnering since Fall 2020 to identify the best way to prepare teachers at the secondary level with the first two years focused on preparation for high school teaching, with students in Secondary Education Programs at USJ being mentored by Bloomfield Public Schools teachers prior to student teaching.
In addition to the mentoring, USJ students were able to teach several lessons in Bloomfield High School classrooms. In the first two years, the program involved 28 USJ students and 8 Bloomfield High School teachers and in 2021-22 the partnership also began to involve Carmen Arace teachers. Bringing USJ students to Carmen Arace and Bloomfield High School earlier in their education programs allows them to gain more valuable experience.
"We are so proud of our partnership with Bloomfield Public Schools to prepare culturally competent, social justice-oriented teachers," said Director of Clinical Practice, Department of Education Dr. Dianna Wentzel. "Preparing effective teachers has never been more important than now as we support students to recover learning lost during the pandemic."