Connor Chapel of Our Lady
"May All Who Enter This Chapel Be Saved."
Built-in 1966, The Connor Chapel of Our Lady is the heart of the University's Roman Catholic tradition. It is here where the community gathers to celebrate and share in our faith.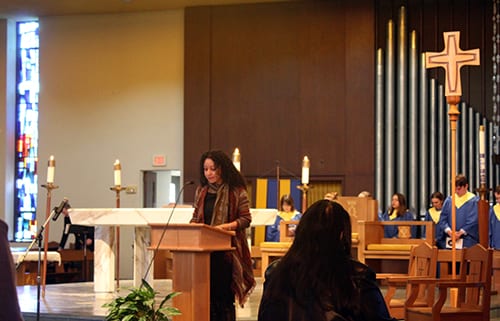 The Connor Chapel of Our Lady History
Prior to The Chapel's existence, the University celebrated Mass in the gymnasium located in the basement of McDonough Hall, or in the small chapel on the second floor of Mercy Hall.
In 1964, college administrators recognized the need to build a permanent place of worship and launched a fundraising campaign. Joseph and Jane Cullen Connor, neighbors and friends of University of Saint Joseph, expressed immediate interest in planning and funding a campus chapel.
The project moved forward and the cost escalated to $900,000; the Connors agreed to contribute the entire amount. As Jane described it at The Chapel's dedication, the Connors saw their gift as the opportunity to give "beauty back to God."
Throughout the planning phase, Joseph struggled with his health. Only two weeks before the ceremonial groundbreaking, he passed away. On July 16, 1965, Jane broke ground on the long-awaited Chapel. As she dug the shovel into the earth, Jane murmured a prayer: "May all who enter this Chapel be saved."
To this day the words exist, inscribed on the narthex floor inside the main doors. Since its completion more than 50 years ago, The Chapel has continuously served the liturgical, academic and spiritual needs of all who enter.
Weekly Mass Schedule
The Campus Community is most welcome to join in the celebration of the Eucharist on Sundays in The Connor Chapel of Our Lady. Mass is held only during the Academic Year (no Mass during Winter and Summer breaks).
Sundays at 7 p.m. – Chapel
Our Sunday Mass time is 7 p.m.
So COME! Enjoy beautiful music from the Chapel Choir!
Take a breather! Say a prayer! Make new friends!
Events at The Chapel
This sacred space embraces diverse events and celebrations that include Sunday Liturgies, Adoration, Convocation, Investiture, Chapel Bells, Chapel Series, Festival of Lights, and the Baccalaureate Mass.
Directions
The Connor Chapel of Our Lady is located on the main campus at the University of Saint Joseph, 1678 Asylum Avenue, West Hartford, Conn.
Explore Connor Chapel
Launch Core Values