Student and Family Resources
WELCOME, BLUE JAYS!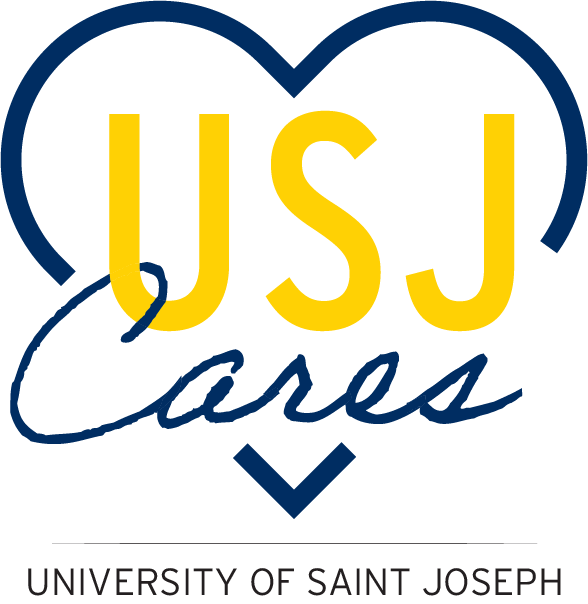 USJ is dedicated to providing connective services and resources that support all needs of students, families, and the USJ community.
Academic Services
Building success inside and outside the classroom
Out and About at USJ
USJ is celebrated for its rich artistic and cultural life, both on campus and in the surrounding community
Public Safety
Voted #2 Safest College Campus in CT
The Department of Public Safety operates 24 hours a day, seven days a week, 365 days a year, and officers patrol the campus on a regular basis.
Contact us for more information or to learn about the following services:
USJ IDs
Victim Assistance
Crime Reporting
Local authorities assistance (police, fire, and ambulance service)
Safety seminars for all incoming first-year students
Campus events assistance
Transportation services
Material Safety and Data Sheet Records
Emergency Call Box: Blue Light Response

There are 10 emergency call boxes located on the grounds of the West Hartford campus that will put you in direct contact with Public Safety.
CONTACT US
Location: McDonough Hall, Lower Level
Campus Phone: x5222
Non-Campus Phone: 860.231.5222
University of Saint Joseph's Commitment to a Safe Environment
A report of sexual harassment, assault, intimate partner violence, or stalking will be taken seriously, promptly investigated, and addressed.
While respecting the rights of all parties involved, the safety and well-being of the complainant and the campus community are the University's primary concern. Appropriate responses will be taken when a complaint is received. The University of Saint Joseph maintains an on-record sexual misconduct policy, a commitment to investigation, support, and protection of any involved parties, annually published security reports, as well as prevention initiatives.
If you need immediate assistance in case of an emergency, please dial 860.231.5222 from any University phone or 911.
Reporting Directly to Title IX Coordinator/Deputies
The Title IX coordinator and deputies are responsible for overseeing the prompt investigation and resolution of complaints of sexual misconduct.
Reports should be made to [email protected]
Title IX Coordinator: Megan Vo
860.231.5629 or [email protected]
Title IX Deputy: Sheri Lee
860.231.5390 or [email protected]
Student Accounts and Financial Aid
USJ is committed to helping you invest in your future and academic success
Make an online payment or contact the Office of the Bursar with questions about tuition, billing, and payment:
CONTACT US
Email: [email protected]
Phone: 860.231.5278
Make an appointment with a Financial Aid Counselor or contact Student Financial Services for questions about the financial aid process:
CONTACT US
Email: [email protected]
Phone: 860.231.5223
Student Life
Meet your home away from home, make your mark, and start your future at USJ
Explore your faith with USJ Campus Ministry:
CONTACT US:
Campus Ministry
Phone: 860.231.5269
Email: [email protected]
Services are offered are offered in-person and through tele-health.
USJ Wellness and Prevention 
A peer health and wellness leadership program
Student space to rest, learn, study and enjoy
Student programming, group, and meeting space available
Wellness education materials and resource closet
Information for personal growth and academic projects
Wellness Programming
Sexual Misconduct
For your rights and what you need to know to obtain information, support, and assistance options for sexual harassment, sexual assault, domestic violence, intimate partner violence and stalking visit MyUSJ/Sexual Misconduct.
For more information, current USJ students can go to MyUSJ >> Sexual Misconduct >> Resources >> Counseling and Wellness Center.
CONTACT US
Location: USJ Cares Resource Center, McGovern Hall, 2nd Floor

Explore the USJ Campus Store to purchase USJ apparel, spirit merchandise, personal care items, and more.
CONTACT US
Location: McGovern Hall, 1st Floor
Hours: M-F from 8:30 a.m. – 4:30 p.m.
Phone: 860.231.5243
Jay Bucks can be used across campus in the Dining Commons, vending machines, and the  campus store.
CONTACT US
Card Services
Phone:860.231.5629
Email: [email protected]
Dine at USJ's McGovern Dining Commons that offers seven delicious food stations daily or grab a Starbucks Coffee and a bite to go at the Jay's Nest.
USJ offers a wide variety of ways for you to get involved in our active student clubs and activities:
Living on campus:
CONTACT US
Location: McAuley Hall, B9 (Ground floor)
Phone: 860.231.5267
Fax: 860.231.6734
Email: [email protected]
MyIT where students, faculty and staff will find technical support

MyIT provides 24/7 access to OIT Services and Knowledge Base articles
New USJ students can enter NEW2USJ in search tool to reveal helpful Knowledge Base articles:

How to connect to USJ Wi-Fi
OneDrive
On-Campus Residential Technology Support
Anti-virus suggestions
And many others
CONTACT US
IT Help Desk
Location: Pope Pius XII Library, 1st floor
Phone: 860.231.5310
Email: [email protected]
Collect your care packages! Each resident student is assigned a mailbox in the mailroom.
Location: Mercy Hall, Lower level
Hours: M–F from 8 a.m. – 4 p.m.
UPS Collection: M–F, 5:30 p.m. (except holidays)
USPS Collection: M–F, 2 p.m., Saturday, 10:30 a.m.
Amazon Orders: Amazon deliveries are not accepted during the evenings and on weekends when the mailroom is closed. Please consider alternative pick-up options: Amazon Lockers
Mailbox keys are distributed from Mail Services and must be returned at the end of the academic year directly to Mail Services.
A $50.00 replacement fee is charged for unreturned mailbox keys.
The mailroom will meter postage for certified mail, media mail and personal parcels.
The bookstore sells postage stamps for letter mail.
Deposit personal mail in the blue USPS collection boxes, located next to UPS Collection Box located near stop sign behind Mercy Hall
Students ordering packages should make sure you put the word "student" in the address when ordering.
The Beekley Center for Student Health and Wellness
Student Health Services offers confidential primary care services to enrolled undergraduate and graduate students.
Health Requirements:
Incoming students must complete online health forms through myHealth, the student health portal. Visit usj.studenthealthportal.com and log in with your USJ credentials. To complete your assigned forms, select the My Forms tab. Please allow up to 48 hours after receiving your USJ credentials to be granted access to the portal.
CONTACT US
Location: O'Connell Athletic Center, 1st floor
Phone: 860.231.5530
Fax: 860.231.6794
Email: [email protected]
Weather and Emergencies
Receive instant notifications of updates on campus
There are 10 emergency call boxes located on the grounds of the West Hartford campus that will put you in direct contact with Public Safety.
When activated, these phones will automatically call Public Safety, announce your location and set off the blue strobe light.
The emergency call boxes should be used whenever you need to contact Public Safety or to summon additional help such as police, fire or ambulance.
Text Message Alerts
Opt-in to the USJ Alert system to receive emergency text notices for closures, emergencies, and weather related updates instantly.
Our emergency alert system will send text notices instantly and simultaneously to all registered users via your mobile/cell phones and preferred email accounts.
You can opt out at any time by editing an existing account using the "Unsubscribe" option.
CONTACT US
IT Help Desk
Phone: 860.231.5310
Email: [email protected]