Counseling & Wellness Center (CWC)
Counseling & Wellness Center (CWC)
Counseling and Support Services
Schedule an Appointment on MyUSJ
The CWC provides free confidential counseling, assessments, and referrals to all students enrolled in the University of Saint Joseph Undergraduate and Graduate Schools.
Students seek counseling for many reasons including, but not limited to, stress, relationship issues, adjustment problems, depression, anxiety, and other psychological difficulties.
Services Information
We provide individual counseling and group counseling when needed. The center has a short-term model of counseling with the number of sessions dependent upon the needs of each student and the mutual goals for treatment agreed upon between the counselor and the student.
Counseling and Wellness staff also provide training, outreach, and consultation to University students, faculty and staff.
Free confidential individual counseling and consultations
In-person and telehealth appointments available
Licensed professional counselors and graduate counseling staff
Psycho-educational and support groups
Limited psychiatric consultation & medication evaluation
Immediate support for students in crisis
Wellness Center
The Student Wellness Center offers a variety of educational outreach programming to enhance the healthy development of the physical and mental well-being of the campus community.
Home of Working on Wellness (WOW)
a peer health and wellness leadership program
Contact Us
Main Line: 860.231.5233
Fax: 860.371.3060
Appointments: Schedule Here
Email: [email protected]
Location:
The Counseling & Wellness Center is located in the Little Red House. Services are offered are offered in-person and through telehealth.
Staff:
Director, Meredith Yuhas, Ph.D., LPC, NCC, ACS
Counselor, Melissa Emmanuel, LPC
Counselor, Juan B. Faraoni III, LPC
During the Academic Calendar Year:
Open for all students
Counseling Services offered M-F: 8:30a.m.-4:30p.m.
Wellness Center Hours:
M-Th: 8:30a.m.-6:00p.m.
F: 8:30a.m.-4:30p.m.
During the Summer & Breaks:
Limited availability for full-time registered students in 12-month programs; email [email protected] for an appointment.
Crises Information:
-Call Public Safety (anytime)
-Call Counseling and Wellness Center (M-F: 8:30a.m.-4:30p.m.)
-Call 911 or go to your nearest Emergency Room
-Suicide Prevention Lifeline 1-800-273-talk (8255)
FYS II Instructor and alumna Michelle Confessore's class participated in the USJ Cares Campaign by living the mission, volunteering at events and contributing to this video to talk about what they have learned!
Sexual Misconduct
For your rights and what you need to know to obtain information, support, and assistance options for sexual harassment, sexual assault, domestic violence, intimate partner violence and stalking visit MyUSJ/Sexual Misconduct.
For more information, current USJ students can go to MyUSJ >> Sexual Misconduct >> Resources >> Counseling and Wellness Center.
Need Help?
Emergency – Town of West Hartford
Campus phone: 9-911
Non-campus phone: 911
USJ Public Safety
Campus phone: x5222
Non-campus phone: 1.860.231.5222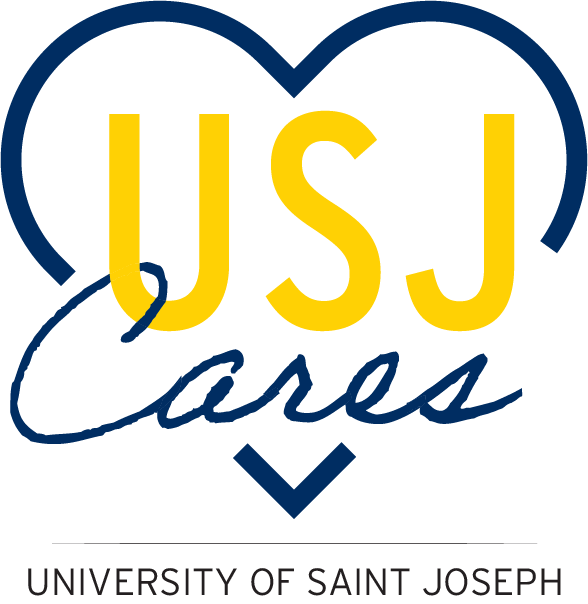 Student space to rest, learn, study and enjoy
Student programming, group, and meeting space available
Wellness education materials and resource closet
Information for personal growth and academic projects
Wellness Programming

Woof Wednesday (therapy dogs)

Yoga, Mindfulness and Meditation Practice and Events

Fun, Games, and Activities

Wellness Coaching, motivation support for personal and academic success. Personalized confidential screenings for most wellness and mental health concerns online and in-person.
Undergraduate and Graduate Paid, Volunteer and Internship Opportunities